National Entrepreneurship and Innovative Program (NEIP) has unveiled the the 4th Presidential Pitch designed to support Entrepreneurs in the country.
Launching the Presidential Pitch in Accra on Friday July 1st 2023, the Deputy CEO of NEIP Ms. Abigail Swad Laryea explained that the Pitch is a deliberate, systematic, and integrated policy initiative by the NEIP to boost the entrepreneurial ecosystem in the country.
She added that the Pitch is a competition that aims to encourage the country's youth within a specified age range to participate.
"The government is in the process of building an ENTREPRENEURIAL STATE as part of the Ghana Beyond Aid blueprint. To move this vision closer to reality, it has become necessary for the focus to be on entrepreneurship and innovation as that is the direction the whole world is moving towards. Our country is facing enormous challenges in jobs and there's the need to encourage our youth to be job creators and not job seekers", the Deputy CEO emphasized.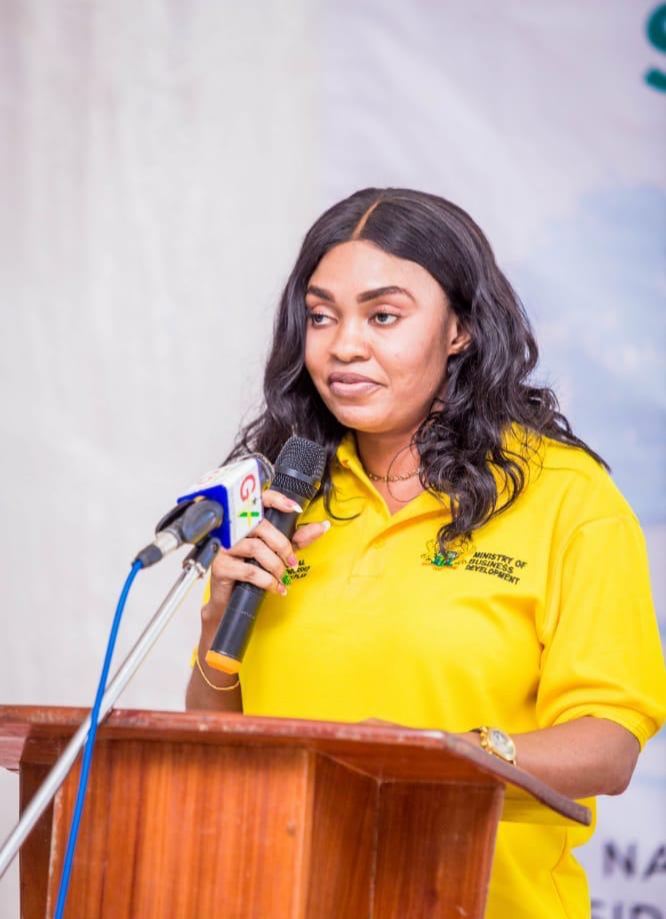 Deputy CEO of NEIP Ms. Abigail Swad Laryea
According to her the Programme has been a key catalyst in realizing the vision of building an inclusive, integrated, Innovative, and conducive ecosystem for entrepreneurs in the country.
"Through the leadership of H.E Nana Akufo-Addo, policies and initiatives that cater to the needs of entrepreneurs all over the country have been put in place. One of which is the NEIP whose primary objective is to provide training, business development services, capacity building, mentoring, funding, and access to market linkages to all our beneficiaries to enable them to grow and become successful. NEIP has become a solution to the national youth unemployment menace and a special purpose vehicle designed by his Excellency the president to lead the charge in creating jobs", She said.
Ms. Swad Laryea further added that, the Presidential Pitch seeks to turn creative businesses by the Ghanaian youth into global business giants with the support of government.
"As a special purpose vehicle for job creation, our response to help curb this youth employment phenomenon lies in initiatives such as the Presidential Pitch", the Deputy CEO Stressed
She revealed that this year's competition is centered on core business sectors namely, Agriculture, Fintech and technology, Manufacturing and processing, Tourism and the creative art, and any other economically viable areas.
She maintained that NEIP has narrowed down all applications to top 25 instead of the usual top 20 where the award packages for this year's competition have been increased and, Government is earmarking 2.5 million Ghana Cedis for the top 25 contestants.
Ms. Swad Laryea therefore called on eligible Ghanaians to take advantage of the 4th Presidential pitch
The launch saw winners of the previous Pitches taking turns to speak and motivate the youth on how the Presidential Pitch has helped expand their businesses.
The application portal is open for 2 weeks, June 30 – July 14, 11:59pm and the website is www.neip.gov.gh.
Source:www.senaradioonline.com