The Minister for Lands and Natural Resources Hon. Samuel Abu Jinapor has called on Ghanaians to take advantage of the Green Ghana Day and plant more trees to halt climate change.
According to the minister, planting trees and nurturing them to grow is the only way of ensuring environmental sustainability.
The Minister made the call during this year's Green Ghana Day held at the University of Ghana on Friday (June 9, 2023) under the theme "Our Forest, Our Health".
"Today, we mark the third edition of the Green Ghana Day, a day set aside to mobilise the entire nation to support Government's aggressive afforestation and reforestation measures to restore our lost forest cover, and contribute to the global fight against climate change", the Minister said.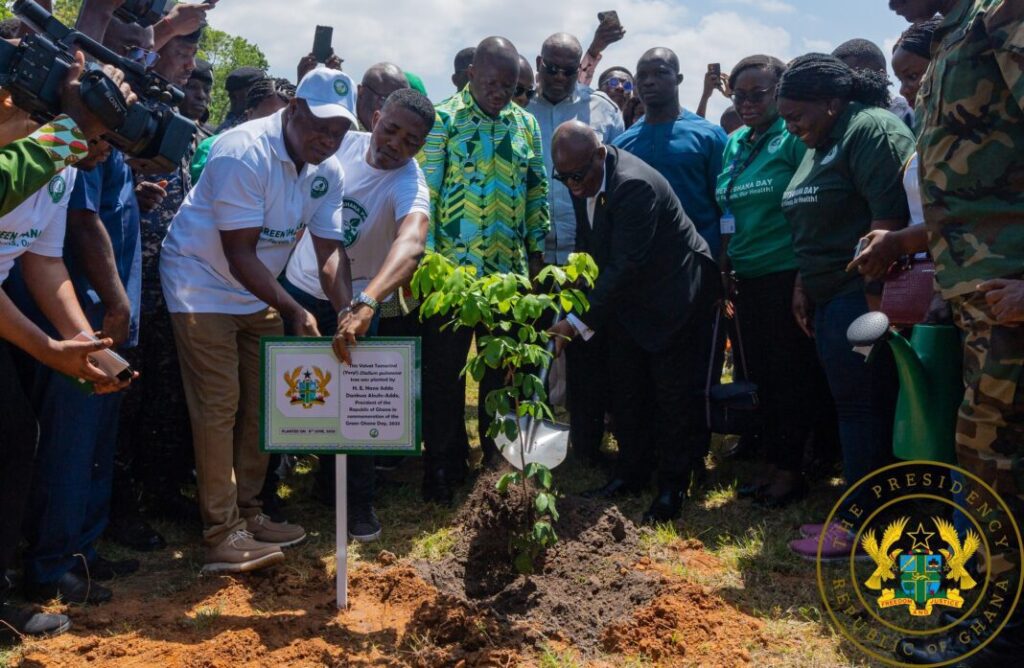 President Akufo Addo and Minister for Lands and Natural Resources planting a Tree
He added that the wealth of a nation depends on its health and that if trees are crucial for our health, then, they are, obviously, indispensable to our socio-economic development.
"… That is why under the direction of President Akufo-Addo, the Ministry of Lands and Natural Resources, acting through the Forestry Commission, continues to implement several interventions, in collaboration with state and non-state actors, to address deforestation and forest degradation".
Some of the interventions the Minister said include the implementation of the Ghana Forest Plantation Strategy, the Forest Investment Programme (FIP), the National Alternative Employment and Livelihood Programme (NAELP), the Ghana Landscape Restoration and Small-Scale Mining Project (GLRSSMP), and the Cocoa and Forests Initiative (CFI).
"And I am confident that today, the Green Ghana Day, will be another resounding success", Hon. Jinapor stated.
He therefore called on Ghanaians to make the annual exercise a priority to contribute towards the aggresive afforestation of Ghana's forest cover.
Launching this year's Green Ghana Day, the President, Nana Akufo Addo emphasized that climate Change is affecting our health, security and livelihood adding that Ghana is among the most vulnerable of impact of climate change hence the need to take the tree planting very seriously.
"We taking every steps to address environmental degradation such as illegal mining and illegal logging", the President said.
He therefore called on Ghanaians to participate keenly in the exercise stressing that "step out take a seedling Plant it and nurture it to grow".
Source:www.senaradioonline.com