Virginia Palmer, the United States of America's ambassador to Ghana, has lauded Ghanaian musician Okyeame Kwame for his Hepatitis B campaign.
The commendation was shared on the USA Embassy Ghana Twitter page on July 28, 2023, applauding Okyeame Kwame's tireless efforts and collaboration with the National Black Nurses Association, USA, in the fight against Hepatitis B in Ghana.
Using his artistry as a platform, Okyeame Kwame has been inspiring a healthier world.
The embassy was delighted to have him and his team visit a day before World Hepatitis Day.
For the past 14 years, Okyeame Kwame, the Hepatitis ambassador alongside MDS LANCET Laboratories, has been leading the charge against this disease, even amid the Covid-19 lockdown.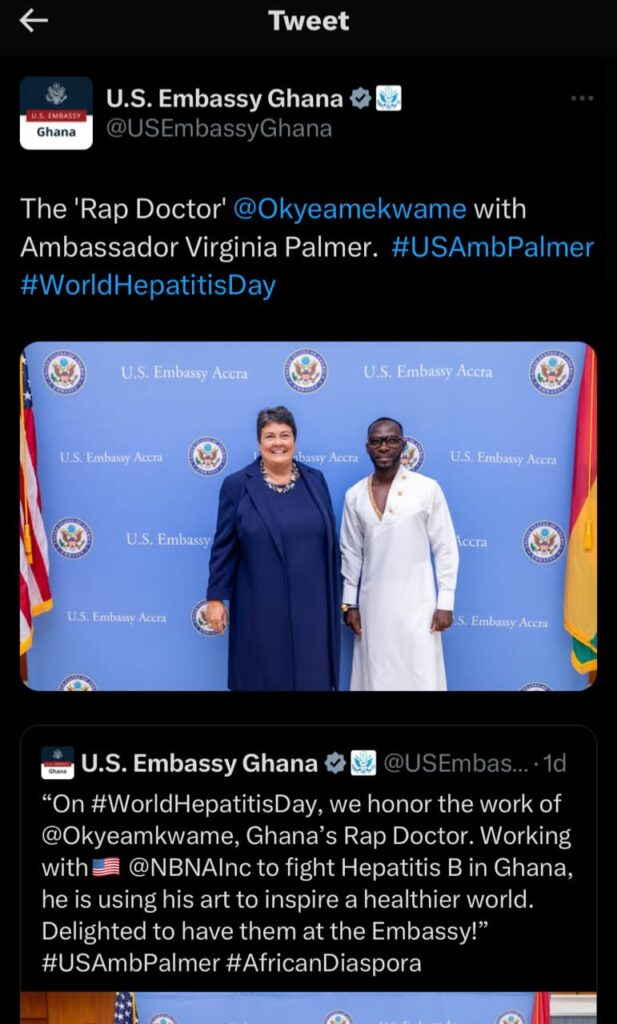 His dedication is manifested in his free screening and vaccination campaigns.
He persists in advocating for this cause, emphasizing that #HepCantWait and we must all strive for a world with #nohep.
The Hepatitis B Quiz
This years, the Noguchi memorial institute, the Madina Health Directorate of the Ghana health service , MDS Lancet Laboratories and the Okyeame Kwame foundation collaborated this year to celebrate world hepatitis day with with an inter-schools health quiz.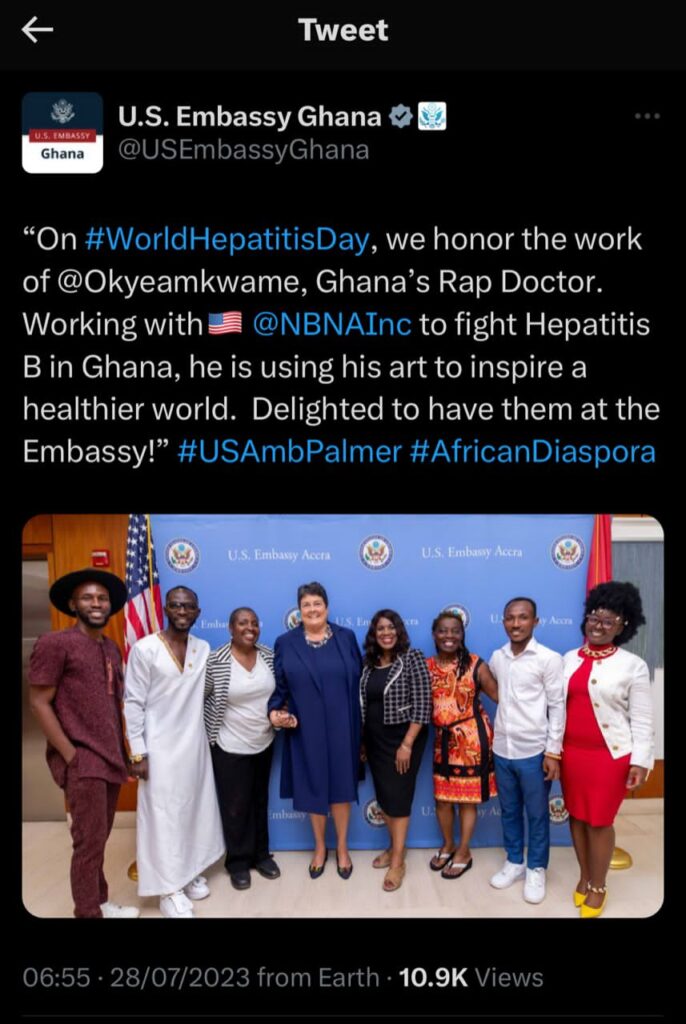 The health quiz was organized in the Ayawaso West Municipality and schools were grouped into Abelemkpe and Roman Ridge zones .
Students were given comprehensive information about Hepatitis B and general health information and asked to prepare before the competition commenced. Espo Best Child JHS emerged as the winners and received Cash Prize and a trophy.
The three runners up also received cash prizes. This process started from 6th July and ended on the 21st July . About 600 students participated in the competition under the co-supervision of the Municipal Director of Education.
source:www.senaradioonline.com