In what appears to be a mafia tactics employed by Stanbic Bank to deny Prof. Charles Kwame Serbeh-Yiadom who was the Founder of Stanbic Bank of what is due him, Stanbic Bank for over 27 years appears unfazed and inspite of the fraudulent manner in which the incorporation was done.
But the Educationist and Real Property Consultant , Prof. Kwame Serbeh-Yiadom is also determined and has vowed to pursue this matter until justice is served him.
Addressing a news Conference in Accra on Monday, Prof Serbeh-Yiadom revealed that he and his friend Alhaji Fatau El-Aziz started the then Union Mortgage Bank now Stanbic Bank with 500,000 each as shareholders.
"The Union Mortgage Bank Limited under the laws of Ghana on 8th March, 1994 with Registration Certificate No. C54199 was incorporated by Bank of Ghana we and became the first co-owners of the company with equal shareholding of 500,000 each. As time passed and considerable establishment benchmarks were covered the Bank of Ghana, on 8th November 1996 issued Banking License No. 154 to Union Mortgage Bank.
This would be exactly three years and two months from the day of the application. I remember the exhilaration and the personal sense of relief as well as satisfaction on that day, on the great achievement", Prof. Serbeh-Yiadom revealed.
He added that soon after that feat coupled high investor interest his partner Alhaji Aziz started acting funny as he connived with people to get him out through illegitimate means which included locking his office and hiding his official car Alhaji's house.
He explained that because he was the one who begun the process of documentation, the Registrar general needed his signature and approval to issue the bank Commencement of Business but he refused compelling Alhaji and his hirelings to sue him in court.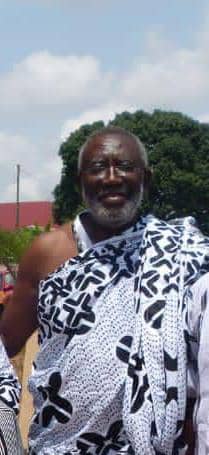 Prof. Charles Kwame Serbeh-Yiadom in his current state after ordeal meted to him by Stanbic bank for 27 years
"Over time while in the legal battle, and unbeknownst to me, El-Aziz and his group had been conducting clandestine discussions through then Head of Banking Supervision of the Bank of Ghana Mr. Emmanuel Asiedu-Mante (now late) to sell controlling interest of the company to a UK-based subsidiary of the Standard Bank of South Africa called the Standard Bank Investments Corporation Africa Holdings Limited (simply known as Stanbic Africa Holdings Limited – SAHL).
According to him, even though it was he and Alhaji Fattau El-Aziz who originally incorporated the Union Mortgage Bank Limited, he was not privy to the transaction in Johannesburg, South Africa between him and Doreen Iliasu, Company Secretary of the Stanbic Ghana Limited to sell the interest until he got wind of it in the media.
He after the sale of the bank by Alhaji to Stanbic Africa Holdings, for close to 30 years all his suits in court over the raw deal meted to him has been dismissed by the Court apparently as a result of influences by Alhaji Fattau and Stanbic bank officials.
He said this went on for sometime until one day the Court ruled as follows " estoppel can not over ride fraud when it has been established beyond reasonable doubt. On the basis of the above rendition I think it will be in consonance with equity and good conscience not to terminate the case summarily", the court ruled giving Prof. Serbeh-Yiadom to prove his case of fraud against the Respondents.
It would be recalled that the High Court, on April 25, 2022, dismissed a motion filed by Stanbic Bank Ghana Limited and 2 others that sought to strike out portions of Mr. Kwame Charles Serbeh-Yiadom's Writ of Summons and Statement of Claim in a suit challenging the incorporation of Stanbic Bank Ghana Limited.
The court, by its decision, has thus given the plaintiff, Mr. Serbeh-Yiadom the green light to prove the allegation of fraud relative to previous judgments won by the defendants.
Educationist and Real Property Consultant, Kwame Charles Serbeh-Yiadom first commenced an action against Stanbic Bank and others on October 2, 2000, at the High Court but the same was dismissed.
The determined Prof. Charles Serbeh-Yiadom is therefore seeking reliefs including : a declaration that the change of the name of 1st plaintiff-company by Special Resolution from Union Mortgage Bank Limited to Stanbic Bank Ghana Limited on 27th July 1999, was null and void as having been procured by fraud as set out in paragraph 27 of the statement of claim because Stanbic Bank did not exist at that date.
An order setting aside the change of Ist plaintiff company's name from Union Mortgage Bank Limited into Stanbic Bank Ghana Limited as having been procured by fraud, the details as set out in paragraph 27 of the statement of claim.
A declaration that per the provisions of the Agreement made and entered into on the 3rd day of March 1999, in Johannesburg, South Africa, between SBJC AFRICA HOLDINGS LIMITED (SAHL) and UNION MORTGAGE BANK LIMITED (UMB), only the subscribers/shareholders as of 3rd March 1999, could change the name of JS1 plaintiff-company from Union Mortgage Bank Limited to Stanbic Bank Ghana Limited.
"I am not a lawyer but I can emphatically say that
what I have experienced just pursuing my stolen property is absolutely unconscionable. I can testify to the fact that fraud succeeds in this nation because it takes forever to punish it!", Prof. Serbeh-Yiadom said emotionally
source:www.senaradioonline.com