In the heart of Ghana's capital, Accra, hoardings plastered with artistic impressions of an architectural marvel block prying eyes from seeing what lies on the other side.
Depending on who you ask, the planned multi-million dollar building – known as the National Cathedral of Ghana – is either a symbol of the country's economic mismanagement or a strategic and bold investment.
In a speech at the turn of the new year, just two weeks after Ghana effectively defaulted on repaying most of its external debt amid a mounting cost-of-living and economic crisis, President Nana Akufo-Addo, scoffing at critics, renewed his commitment to the religious building.
"The National Cathedral is an act of thanksgiving to the Almighty for his blessings, favour, grace and mercies on our nation," the president said at the construction site where a Bible-reading marathon had been taking place.
God, he said, had spared Ghana from conflict that had afflicted many countries, including some of its West African neighbours, who have been dealing with numerous security challenges.
The president then announced a personal donation of 100,000 cedis ($8,000; £6,700) towards the construction costs. It was envisioned to be a sacred space for all Christians, who make up 70% of the population, and where national religious services could take place.
But Mr Akufo-Addo's enthusiasm for the project has divided public opinion.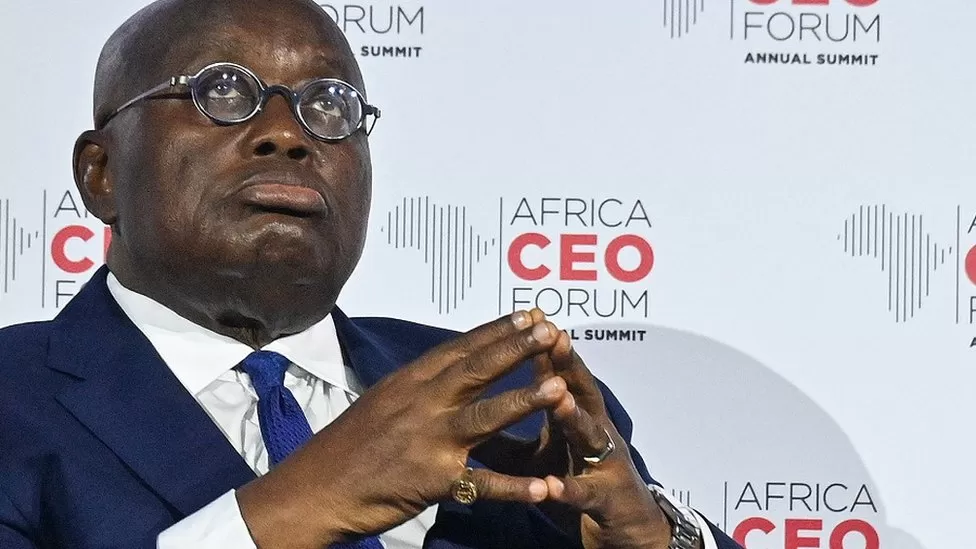 Though most of the costs are supposed to be covered by donations, with the state providing the land and some seed funding, critics have queried the amount of money – some $58m – that the government has so far spent in these economically straitened times.
On top of this, the project has been beset by allegations of misappropriation of funds as well as questions over the awarding of the design tender to celebrated British-Ghanaian architect Sir David Adjaye, a situation that caused friction with some of the top Christian leaders who make up the National Cathedral board of trustees.
The authorities reject these claims and the board has approved a financial audit, as well as agreeing to let parliament investigate the way contracts were awarded.
Ghanaian economist Theo Acheampong believes the government's priorities are misplaced, considering the country's current economic situation, including a depreciating currency, dwindling foreign reserves and strained public finances.
"This is a generational crisis. Inflation is in excess of 50%, the country is not able to repay its debt, forcing the government to cut back on expenditure. And also at a time the government is seeking a $3bn loan from the International Monetary Fund, the cathedral is not a priority for the nation," Mr Acheampong said.
Mr Akufo-Addo first revealed plans for the cathedral after he won the 2016 election and the architect was appointed two years later. But work on what the president has referred to as "his gratitude to God" only began in 2022, two years after his re-election.
Source ; JOYONLINE.COM