Founder of INSPIRE HER, a Child and Women Rights advocacy NGO, Sandra Boakye's advocacy and leadership exploits has been acknowledged by the US Embassy in Ghana as she is selected as 2023 Mandela Washington Fellow.
This prestigious Fellowship is awarded to young Leaders from Africa who have demonstrated exceptional leadership in their fields.
Ms Boakye's insatiable pursuit of greatness in leadership coupled with her strong and passionate advocacy for children and women won her the slot from a pool of closely 3,000 applicants from all over Ghana, making her one of the 33 Ghanaians chosen as 2023 Mandela Washington Fellow.
The Founder of INSPIRE HER will later this month, join her colleague fellows to embark on a 6 week academic and industry journey to USA where each of them will be placed in a University in the USA for an intensive program of professional development and leadership training.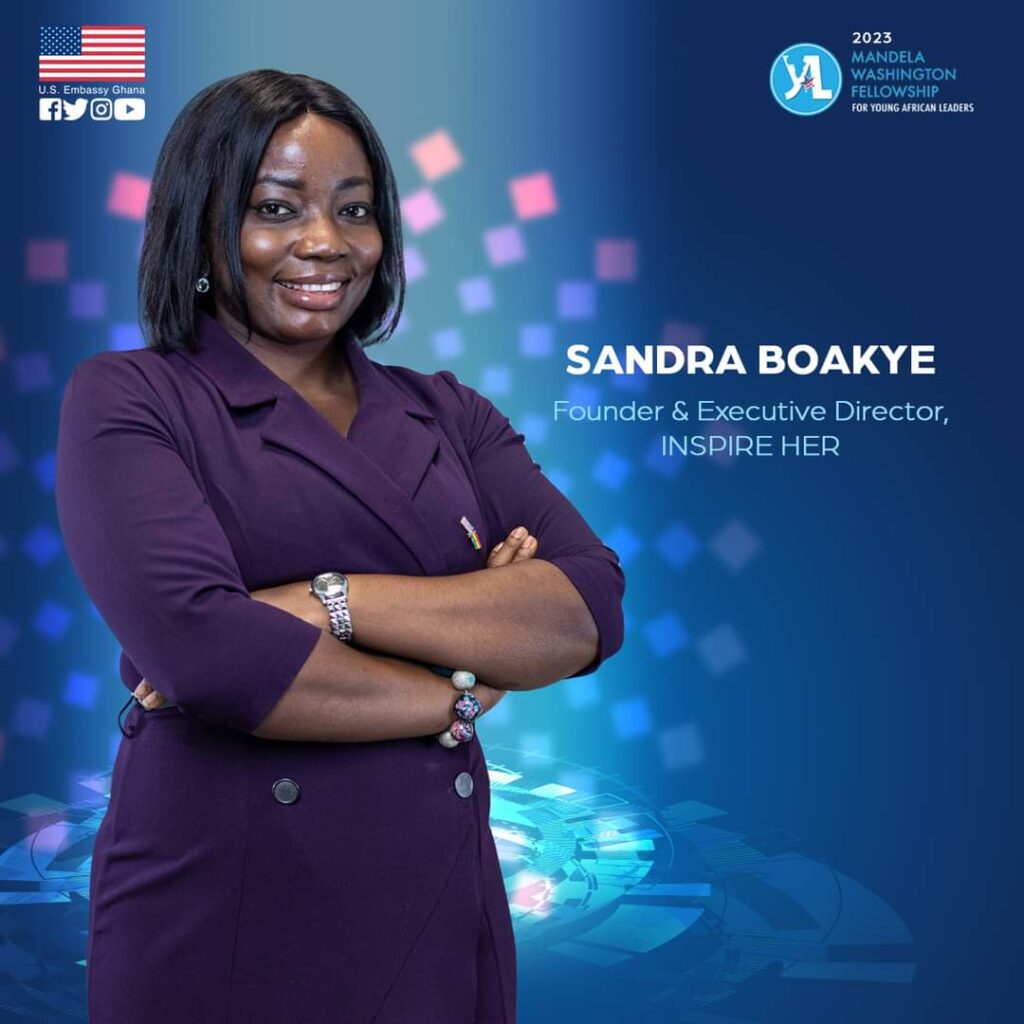 Mandela Washington Fellow, Ms Sandra Boakye
The Mandela Washington Fellowship is the flagship initiative of the Young African Leaders Initiative (YALI), providing approximately 700 young African leaders with leadership development and training opportunities in the United States every year. Since its inception in 2014, the Fellowship has welcomed over 5,000 young leaders from all countries in Sub-Saharan Africa. Upon their return, the Ghanaian Mandela Washington Fellows will join the vibrant network of almost 3,000 alumni in Ghana, actively engaging with both U.S. and Ghanaian leaders to develop community-based solutions for public policy challenges, including health, education, human rights, women's empowerment, and other critical areas.
The 2023 cohort comprises professionals from diverse fields and regions, focusing on a wide range of issues such as climate change, combatting gender-based violence and child labor, HIV/AIDS awareness, non communicable diseases treatment, mental health, support for the agricultural sector, STEM education, and business sector strengthening. Moreover, this year's group also includes an additional Ghanaian youth leader as part of the African Union's cohort
PROFILE OF SANDRA BOAKYE
Mandela Washington Fellow Sandra is an experienced Public Health professional with a Master of Public Health degree from the University of Ghana, specializing in Population, Family, and Reproductive Health. She is driven by her desire to make a sustainable impact on underserved communities and vulnerable populations through collaborative efforts. Sandra firmly believes in the empowerment of women and girls and sees a promising future in gender equality.
Sandra advocates for various gender-related issues including menstrual equity, girl-child education, teenage pregnancies, sexual and reproductive health rights, including for persons with disability, and women's empowerment. She currently serves as the Founder and Executive Director of INSPIRE HER, a social impact NGO dedicated to ensuring menstrual equity in Ghana and beyond. Sandra has actively contributed to national programs aimed at promoting sexual and reproductive health information, services, and rights.
Sandra aspires to become a global advocate for girls and women's rights. Additionally, she has a keen interest in contributing to gender-friendly policies, laws, and decisions in Ghana. #YALI2023 #ExchangeOurWorld
Source:www.senaradioonline.com