Ghana's Visa fraud has triggered a sharp rise following high demand of Visa by people wanting to travel abroad temporarily or permanently for economic opportunities and are willing to spend money on visas.
Whilst the Embassy of the United States in Accra, reports that "there are many forged official looking documents" in Ghana, data from the Ghana Immigration Service (GIS) indicates that there were 3,876 cases of fraudulent documents reported between 2008 and 2010 at the Kotoka International Airport (KIA).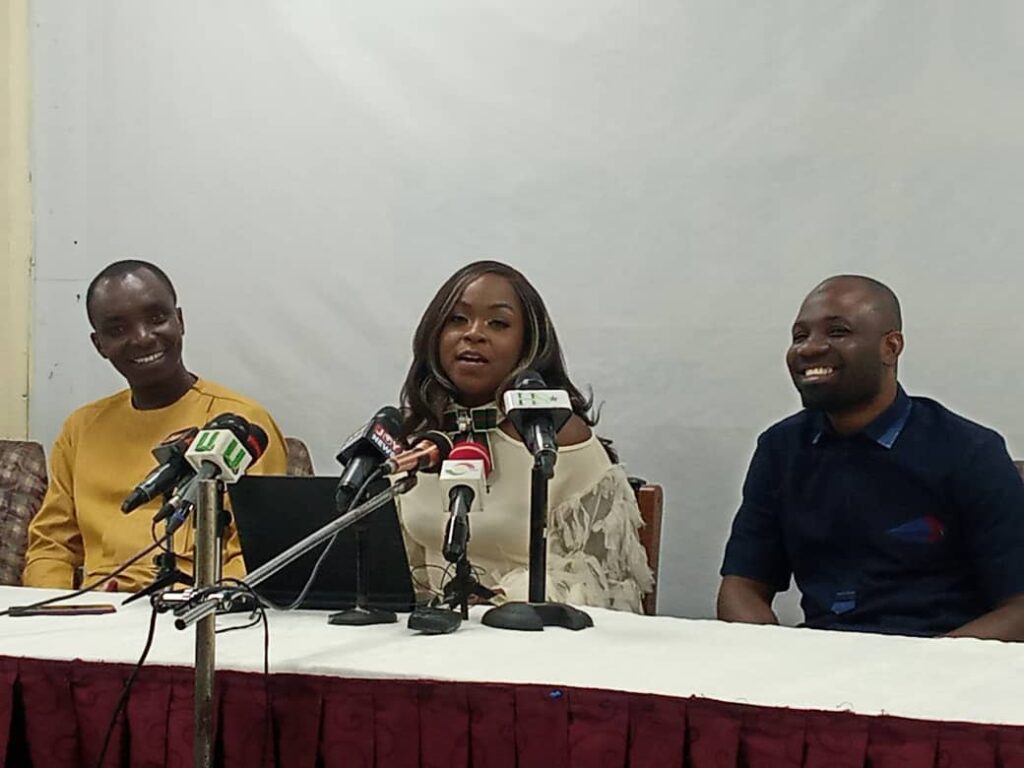 (from left) Rev Andrew Ampofo, Director, CA CHAG Company Ltd, Ms Kelisia Hazlewood, CEO of HL Consulting Group, Apostle Osei Bonsu, Financial Controller, HL Consulting Group.
It is in view of this that HL Consulting Group is admonishing Ghanaians to be extra vigilant and cautious not to fall prey to these Visa scammers.
Addressing a news conference in Accra on Friday (May 19, 2023), the CEO of HL Consulting Group , Madam Kelisia Hazlewood explained that the Visa fraud has become rampant due to lack of education and awareness creation on the processes for Visa acquisition in the country.
According to the US based Immigration Attorney, such awareness creation and workshop was necessary in order to nip in the bud issues of Visa fraud.
In that regard, Madam Hazlewood who doubles as the founding Partner of Hazlewood & Lawrence PLLC revealed that HL Consulting Group is coming up with an Intensive United States Immigration Workshop in Accra on the 16th of June 2023 in East Legon-Accra to take potential travellers to all Immigration issues.
She said the Group is made of a team of Immigration Experts who often breakdown to people the often complex US Visa issues.
According to her, the workshop would be beneficial to Ghanaians as it seeks to assist people to be better informed on Visa issues, thereby helping in reducing Visa fraud in the system.
"Although, the US is my home, Ghana is very close to my heart. I have been traveling back and forth to Ghana since 2012 to present. And on my very first trip to Ghana, I asked myself what can I do to help. As I interacted with different people in Ghana, I kept hearing horror stories of their attempts to travel to the United states being denied a visa because of common mistakes or miseducation or being scammed out of their money that they've worked so hard to earn. I soon realize I can make a difference through immigration awareness and immigration consulting services", she emphasized.
The CEO of the Group later maintained that Participants of the workshop stand to benefit from comprehensive insights into the United States immigration processes, covering topics on family-based immigration, spousal, visa, fiancé visa, employment, based immigration, diversity, lottery visa, study abroad and schscholarship.
"There would be opportunities for Ghanaian students, the infamous tourist visas, exchange visitor visa, religious worker visa, investment visas, extraordinary ability in sciences visa, extraordinary ability in the arts visa, temporary worker visa, and one that may be applicable to some of you, the Journalists and Media visa", Ms. Hazlewood explained.
She therefore urged all Ghanaians to take advantage of this workshop to equip them in acquiring genuine visas whilst avoiding visa scams.
Presence at the press conference was the Director of CA Chag Rev. Andrew Kwame Ampofo and Apostle Osei Bonsu who is the Financial Controller of HL Consulting Group.
Source:www.senaradioonline.com.