A Law Lecturer at the University of Professional Studies -Accra (UPSA), Lawyer Albert Quashigah has admonished Journalists to take the law on publishing fake news seriously to avoid falling foul of it.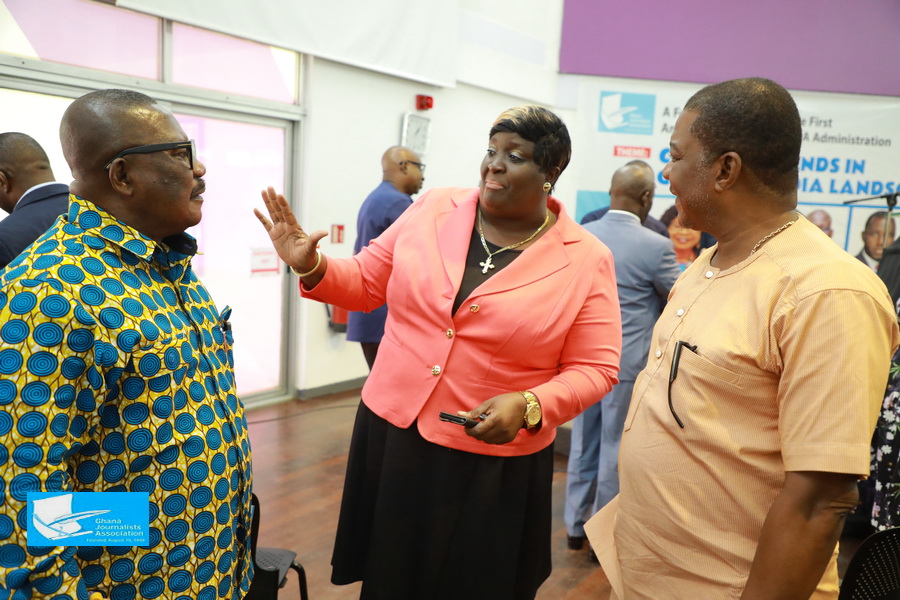 According to him, the law of Publishing fake news which falls under the electronic Communication Law section 67, does not target Journalists but can be used against Journalists.
The Law Lecturer was speaking at a Forum to Commemorate one year Anniversary of the Current GJA Leadership.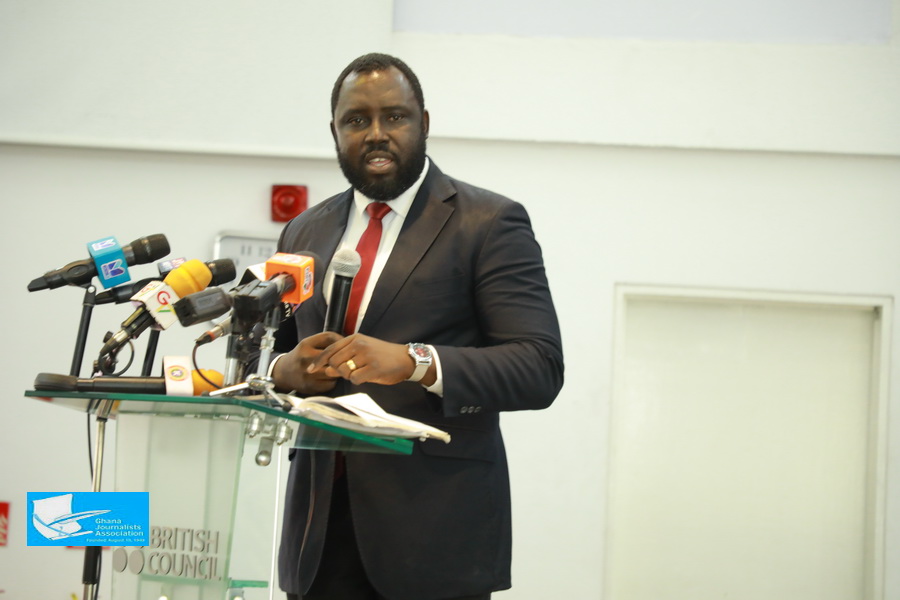 Lawyer Albert Quashigah giving his presentation
"We need to take the law of Publishing fake news seriously.
The electronic communication law section 67 does not target Journalists but can be used against Journalists so it must be deleted or relook at to protect Journalists.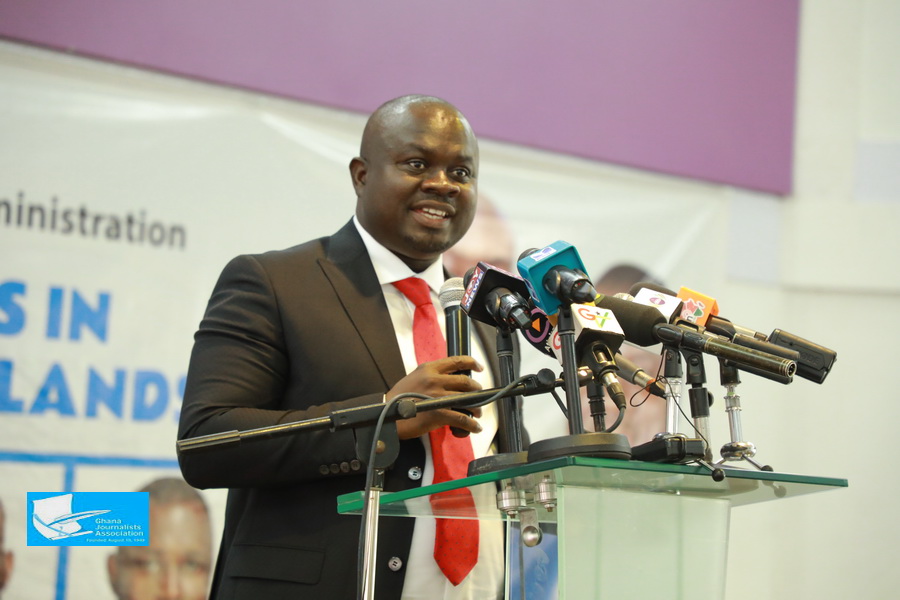 GJA President, Mr. Albert Kwabena Dwumfour delivering his message
Lawyer Quashigah who was speaking on a topic "An assessment of the Criminal law on false news and its application against media Practitioners in Ghana", called for the need to amend that law or rewrite it in order to safeguard Journalists.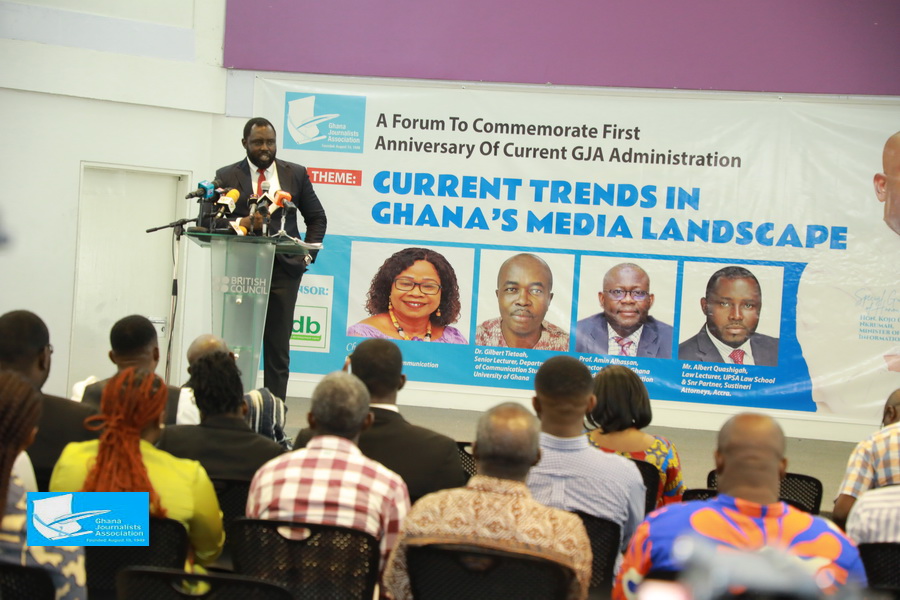 "I think this law has been used against Journalists. This law must give way", Dr. Quashigah noted.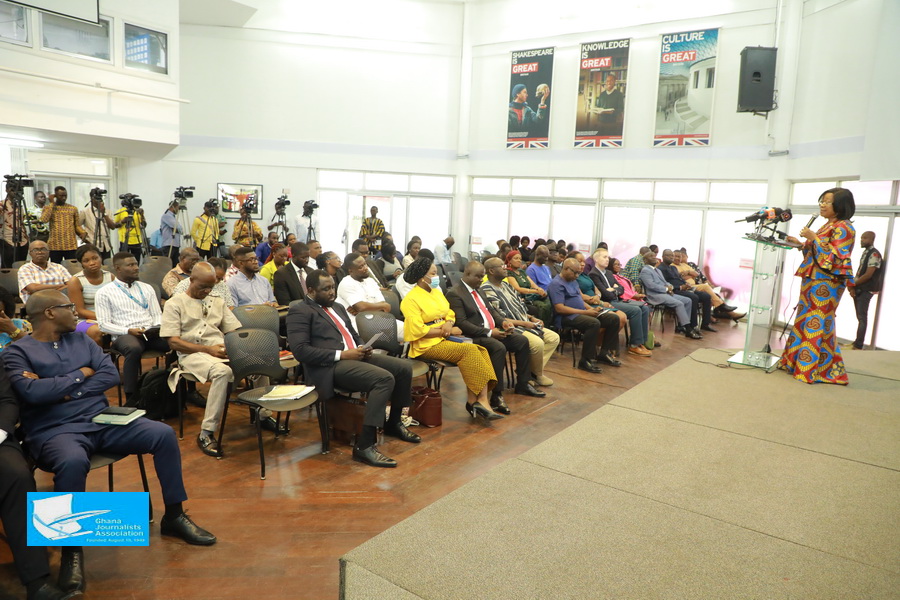 On his part, the Director General of GBC, Prof. Amin Alhassan expressed worry over the principles of Journalism which he said has been jettisoned with the advent of the new media.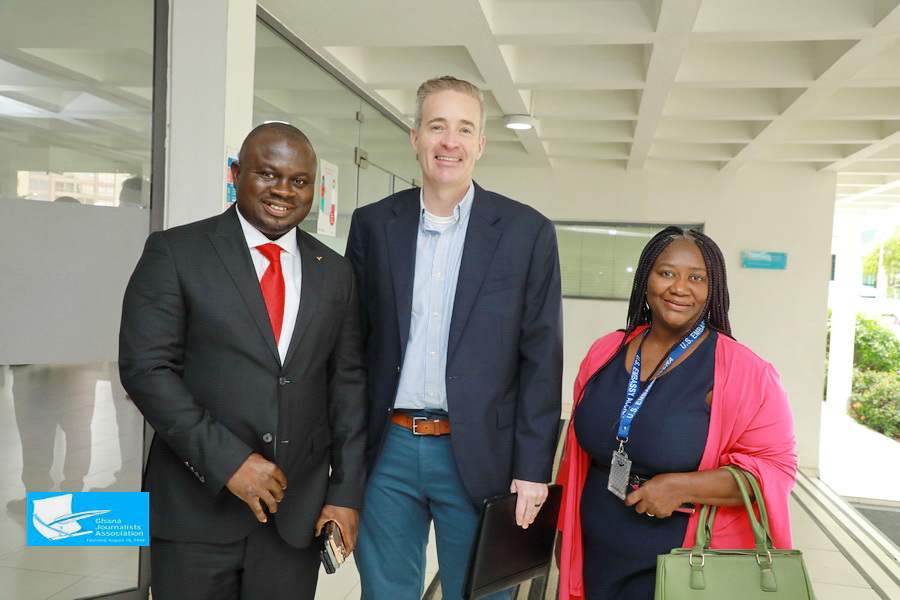 GJA President Mr. Albert Dwumfour and Reps of US Embassy led by Kevin Brosnahan
He explained further that new media, in whatever form we think of it is occasioned by the mainstreaming of digital technologies to the extend that the platforms that they create becomes the main source of new media cultures of information consumption.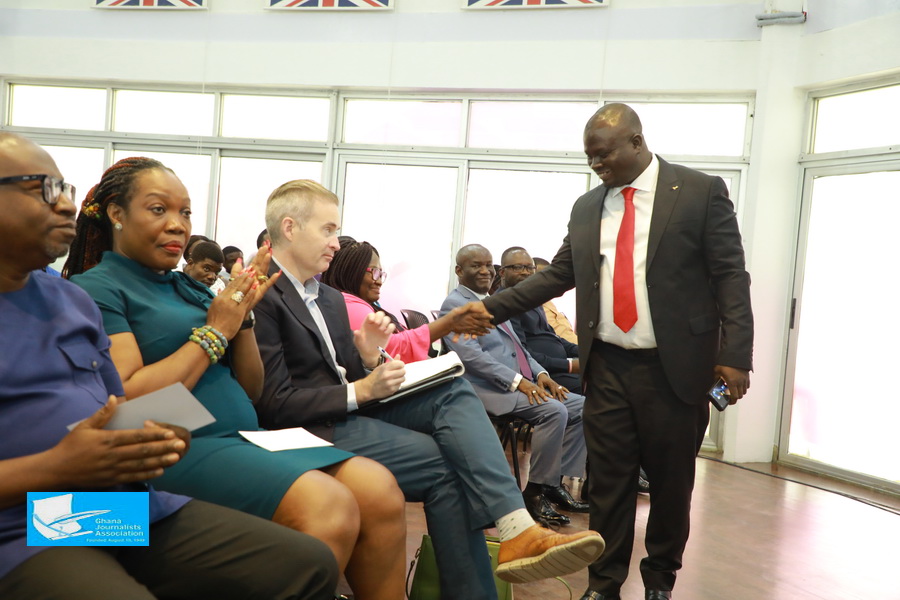 "The old media channels of mediums is giving way to new technoscapes of media platforms. In Broadcasting, this transformation has been phenomenal. Analogue transmission has been jettisoned in favour of multiple platforms of DTT, DTH satellite, Online Streaming, DAB, and much more is to come when G5 networks are rolled out Internet of Things become part of our everyday life", Dr. Alhassan emphasized.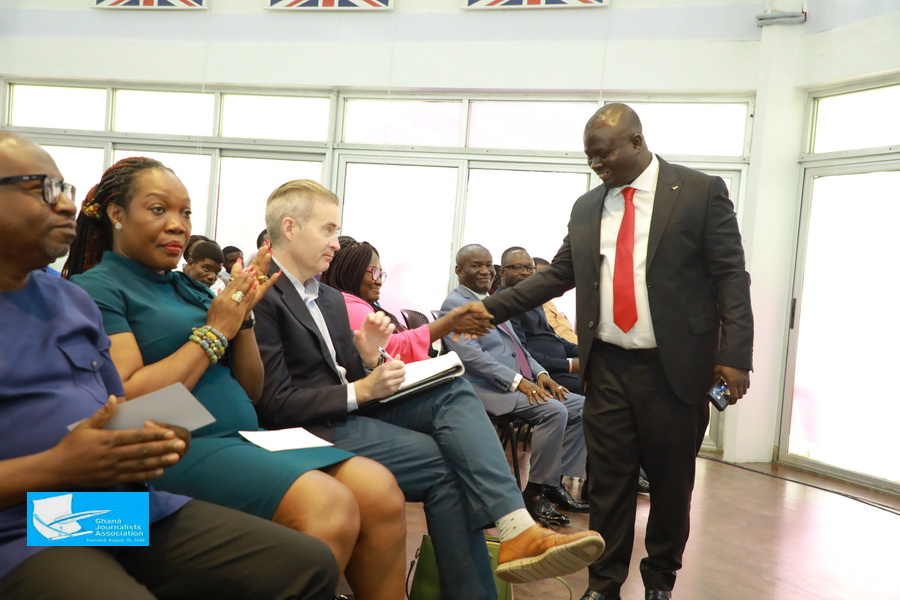 He said these changes are transforming Journalism practice and functions and raise several ethical issues.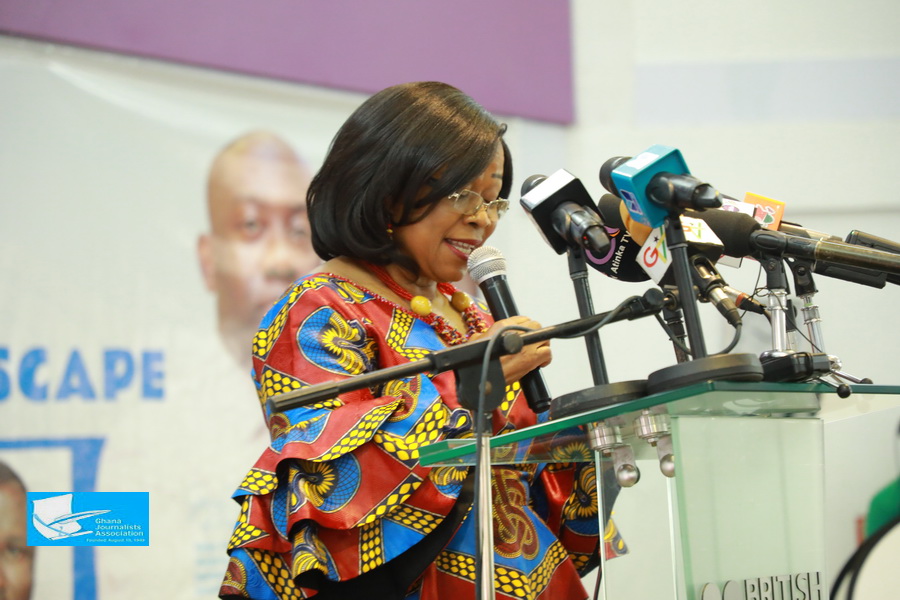 Chairperson for the Forum Dr. Charity Binkah
According to him, in the new media ecosystem, audience size is not determined by good journalism adding that it is determined by clickbaits and amplifications strategies, including misinformation content.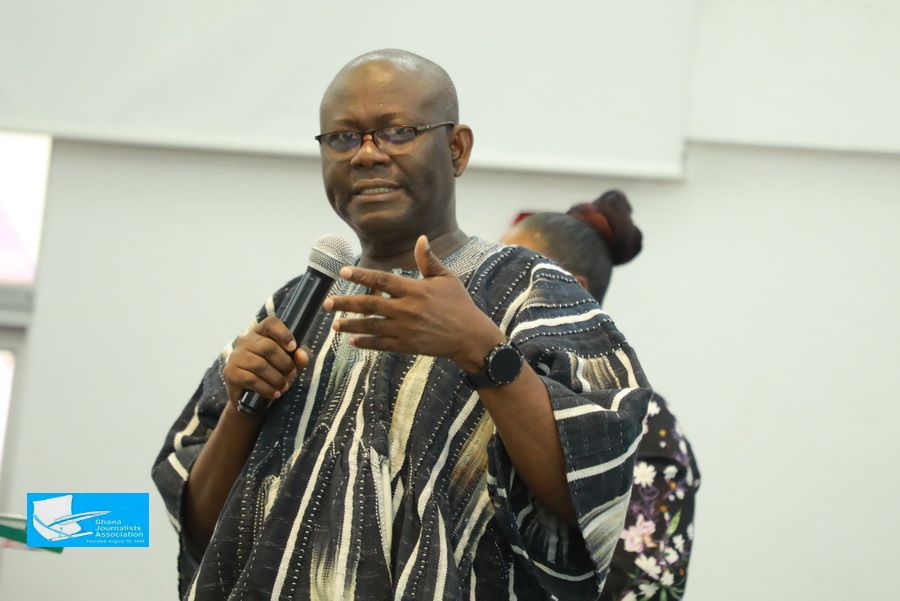 Prof. Amin Alhassan Giving his Presentation
"The new media ecosystem has brought about the phenomenon of weaponization of information. Fake news has high virality than truthful news. It even becomes turbo charged if the content is meant to damage the reputation of a target. These are developments that make nonsense of the professional values and ethics of Journalism. The question that stares us in the face is how do with protect journalism and a professional practic that will continue to function as an institution of democracy and development", the learned Professor queried.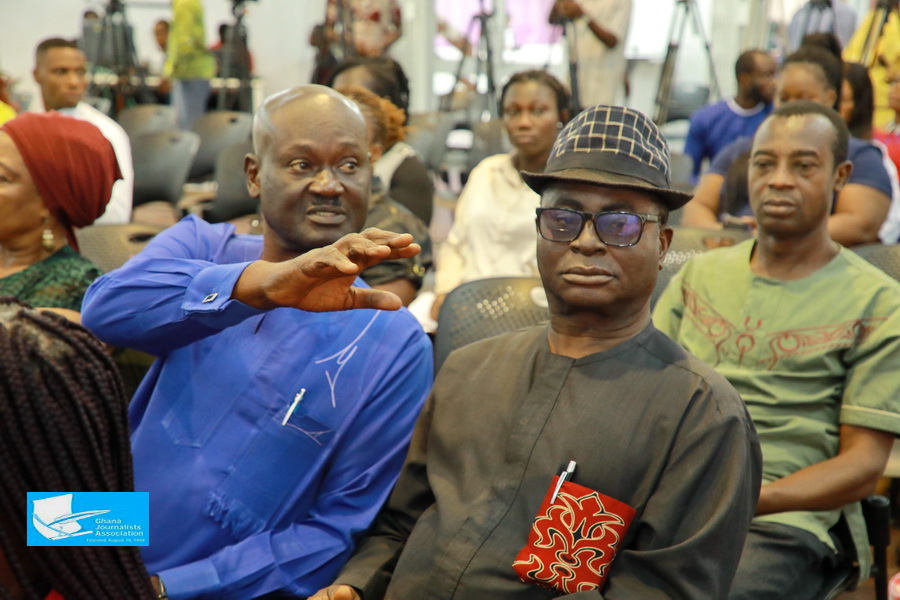 The GJA President, Mr. Albert Kwabena Dwumfour touched the need for Journalists to be guided by their constitutional obligations and work towards the development of the nation.
He said the media is needed the most in such critical times when the country is facing economic challenges.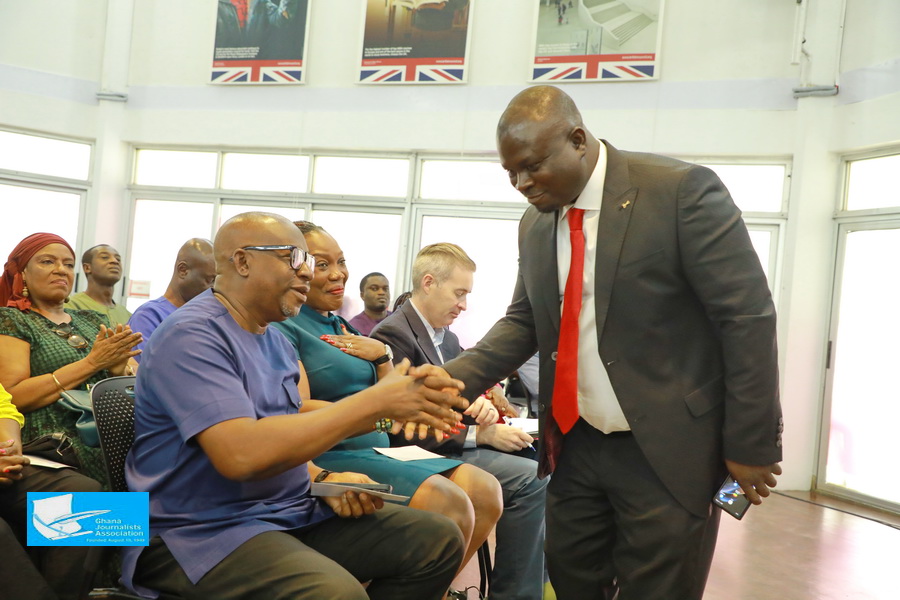 "Madam Chair, as media professionals, we have a crucial role to play in ensuring the economic growth of the country, particularly in such critical times when the global economy is experiencing difficulties. While highlighting social evils such as corruption and abuse of power, we should also project or highlight activities and programs that promote the economic development of the nation", the GJA President advised.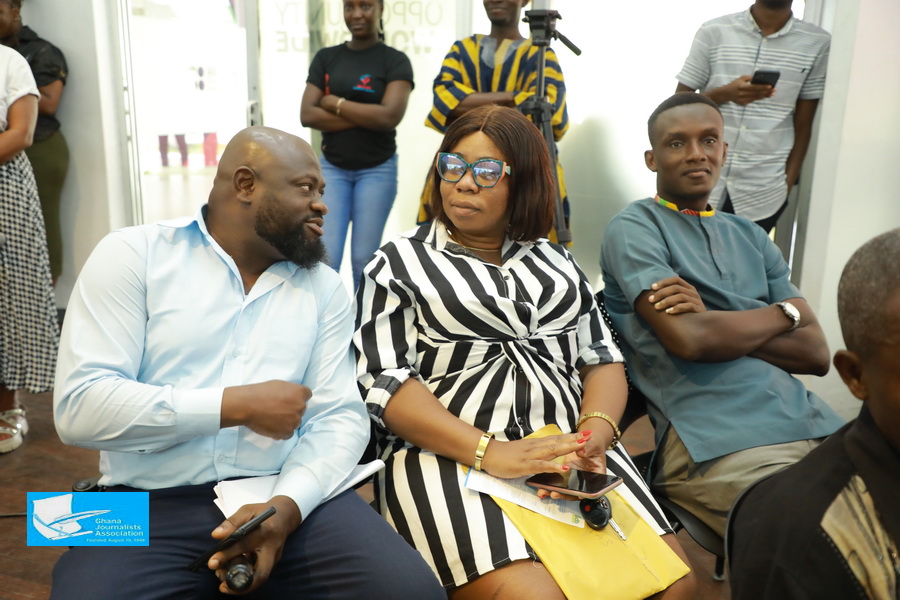 Efo Mawugbe and Dora Larbie of Press Centre
Notable and distinguished personalities who graced the ceremony including the Deputy Minister for Information, Madam Fati Abubakar, Press Attache at the US Embassy- Mr. Kevin Brosnahan and Madam Joyce Asiedu of the US Embassy PR Department, among others.
Source:www.senaradioonline.com